Rush Common
'Rush Common' is an ancient area of land that would once have provided grazing for people who did not have private land. Over time, as London grew south of the Thames, common land was absorbed into the city.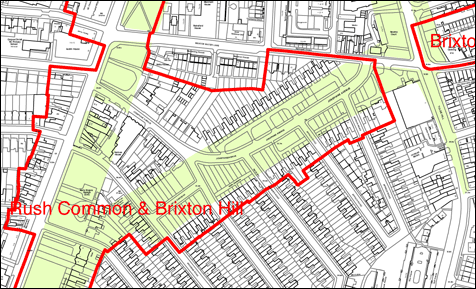 In order to protect Rush Common, there are guidelines in force from Lambeth Council which any development and land use must respect. The guidelines cover the following: policy; historic background; where permission is needed to build; criteria for approving applications to develop; enforcement; general guidance on approved use and development, from buildings to boundaries and enclosures, parking and trees.
There are historic exceptions where building has taken place (such as the houses on Arodene Road and the shops on Brixton Hill) but generally the rules say nothing must be built above ground level on Rush Common land.
In 2012 Lambeth Council updated the information they provide about Rush Common which you can find by clicking here.
For more information also see the Friends of Rush Common web site.